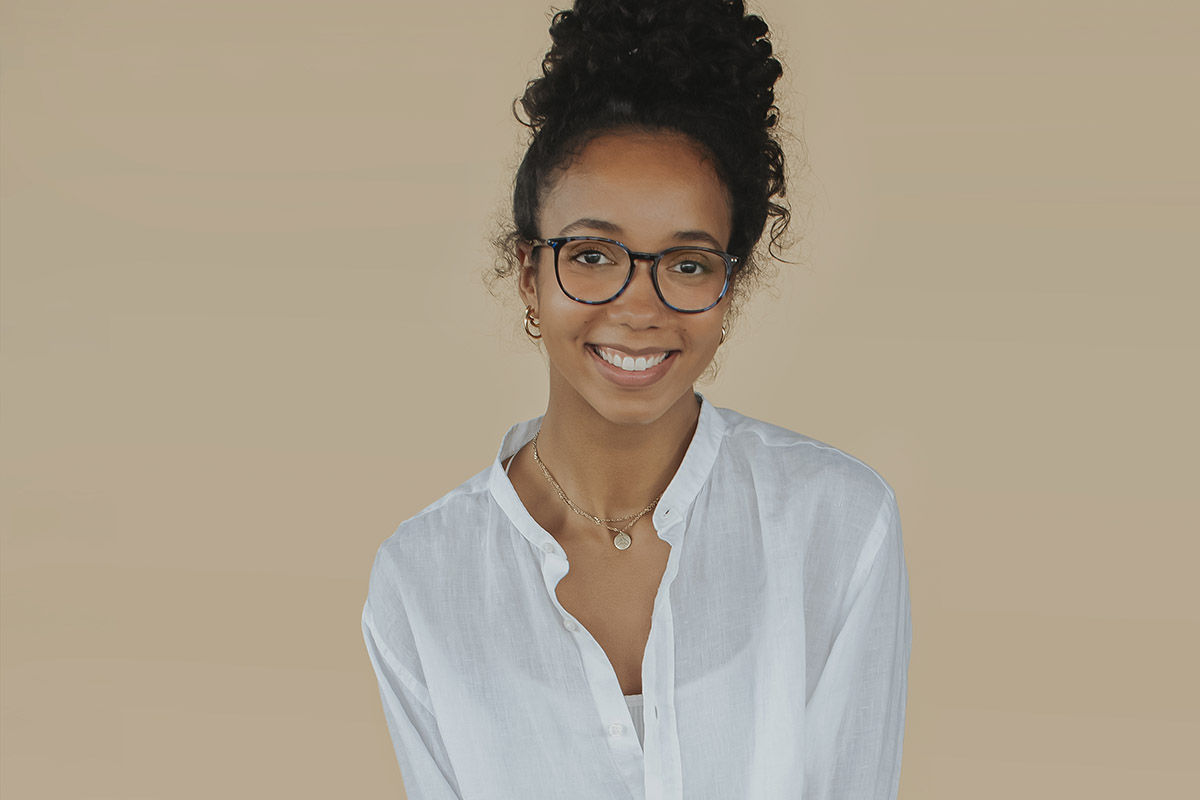 People who wear glasses are always asking which frame suits them best. But have you ever asked yourself what face shape you have? The shape of the wearer's face is one of the most important points of reference for buying the right pair of glasses. The face's shape is the main thing that determines its harmony. In our latest blog post, you can find out how to determine the shape of your face and find the right pair of glasses to suit your personal proportions. Let this many examples inspire you!
Many factors determine whether a pair of glasses suits you, with our face shape being the main one. We distinguish between six basic shapes: triangular, oval, square, rectangular, round and diamond. It is important to remember that every face is unique and often comprises a mixture of several different shapes.
How to find out which face shape you have
Stand in front of a mirror and make sure all of your hair is brushed back from your face. Now imagine a line from your hairline over the contours at the sides and the cheeks down to your chin. Are you already able to distinguish a shape? If you find it difficult, you can take a photograph of your face from the front and draw the line over it. Remember that it is possible to have more than one face shape.
These glasses suit your face shape
The fantastic thing about glasses is that they are one of the few accessories that can directly influence the impression our face can make. Want to emphasize your face shape? Does one part of your face seem too prominent to you and you want to tone it down? Everything is possible with the right choice of glasses! The good news is that there are only very few no-go's. Depending on the effect you want to achieve, a wide range of frames may suit your face shape.
Be inspired by our examples and remember to approach choosing your glasses with a sense of fun and adventure!
Triangle face shape
A triangular face shape is defined as having a broad forehead and tapering to a pointed chin. Overall, the top half of the face appears wider than the lower half. This face shape suits delicate, minimalist frames that may be round or oval, as well as rimless styles. Make sure that the temples are affixed at the top and are not too wide – this would otherwise emphasize the top part of your face even more.
In our example, you can see a triangular face shape with a more striking, adventurous form in bright blue. Triangular faces can also wear trendy "nerd" glasses with ease, provided the frame is fairly delicate and has a harmonious overall shape.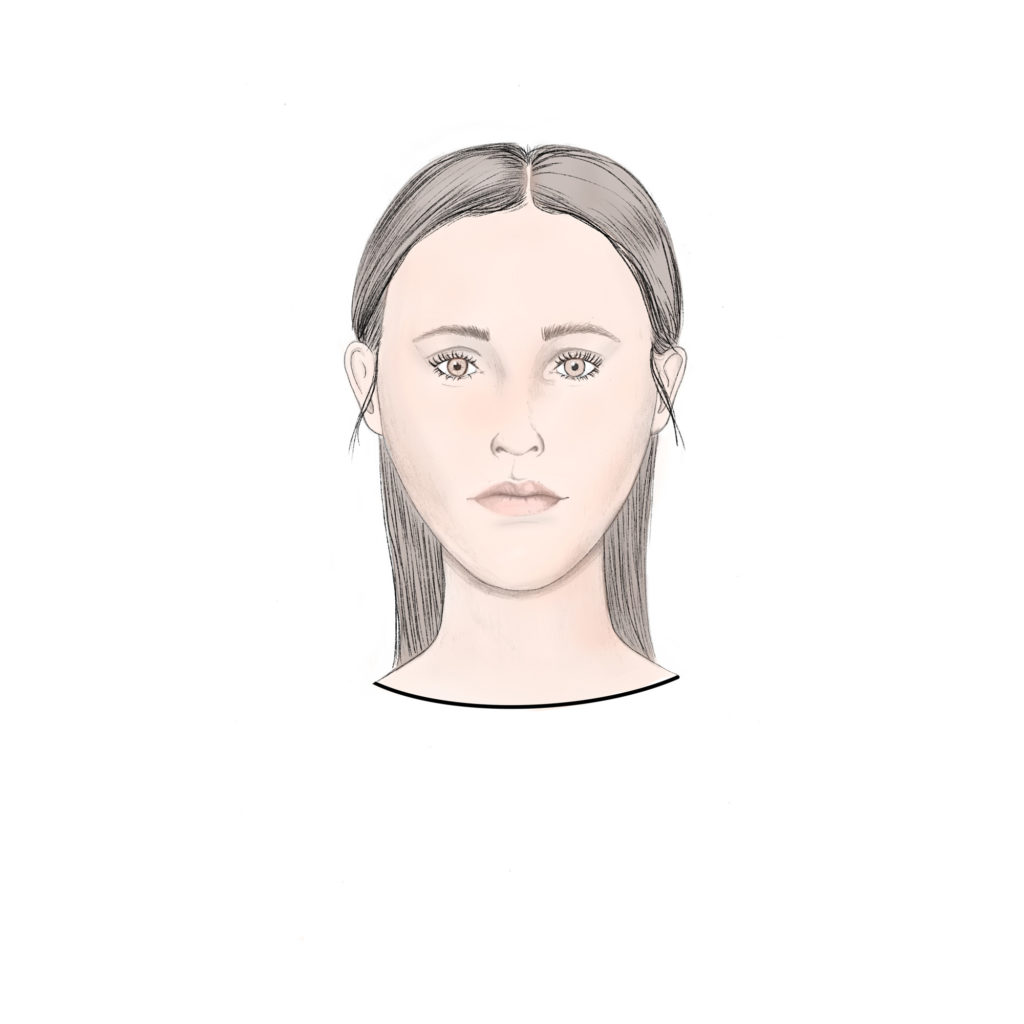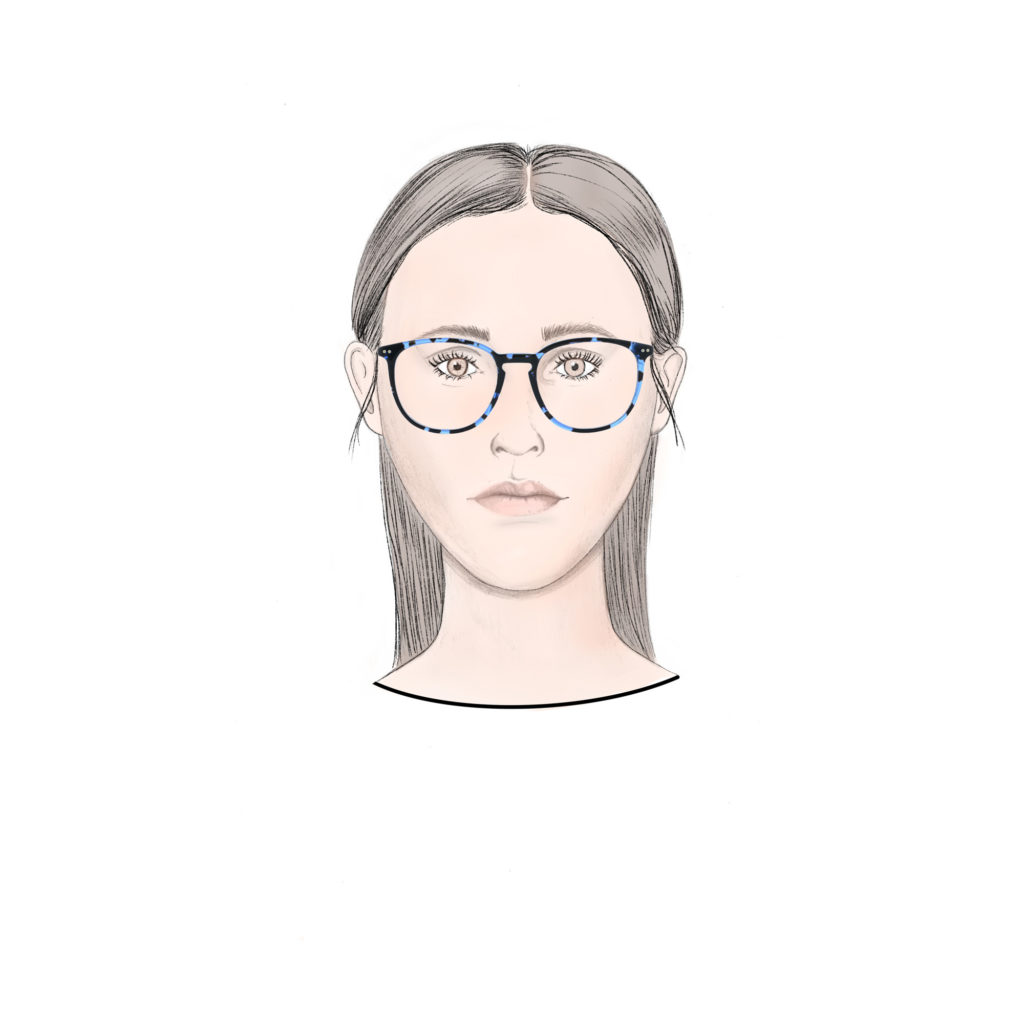 Oval face shape
Oval face shapes can wear practically any style! Thanks to their balanced, harmonious proportions, oval face shapes are the most versatile when it comes to styling, hair cuts, jewelry and, of course, glasses. Because (almost) any style will suit you, the question you need to ask yourself is what you want to emphasize, and whether the glasses should be the focus or if you would prefer a more subtle look.
Our example shows an oval face with a classic metal frame in a horn-rimmed style. The frame is quite subtle and really highlights the face shape. Ideal as a discreet everyday companion!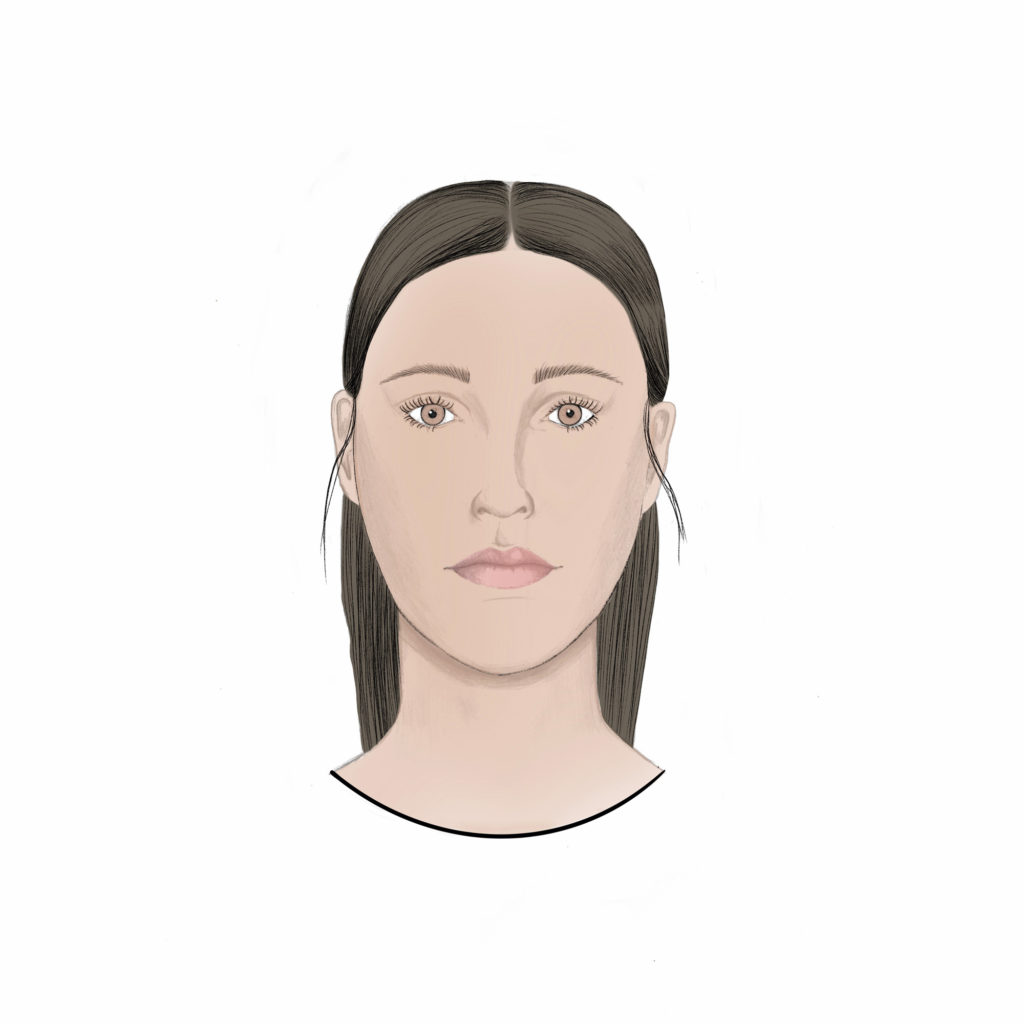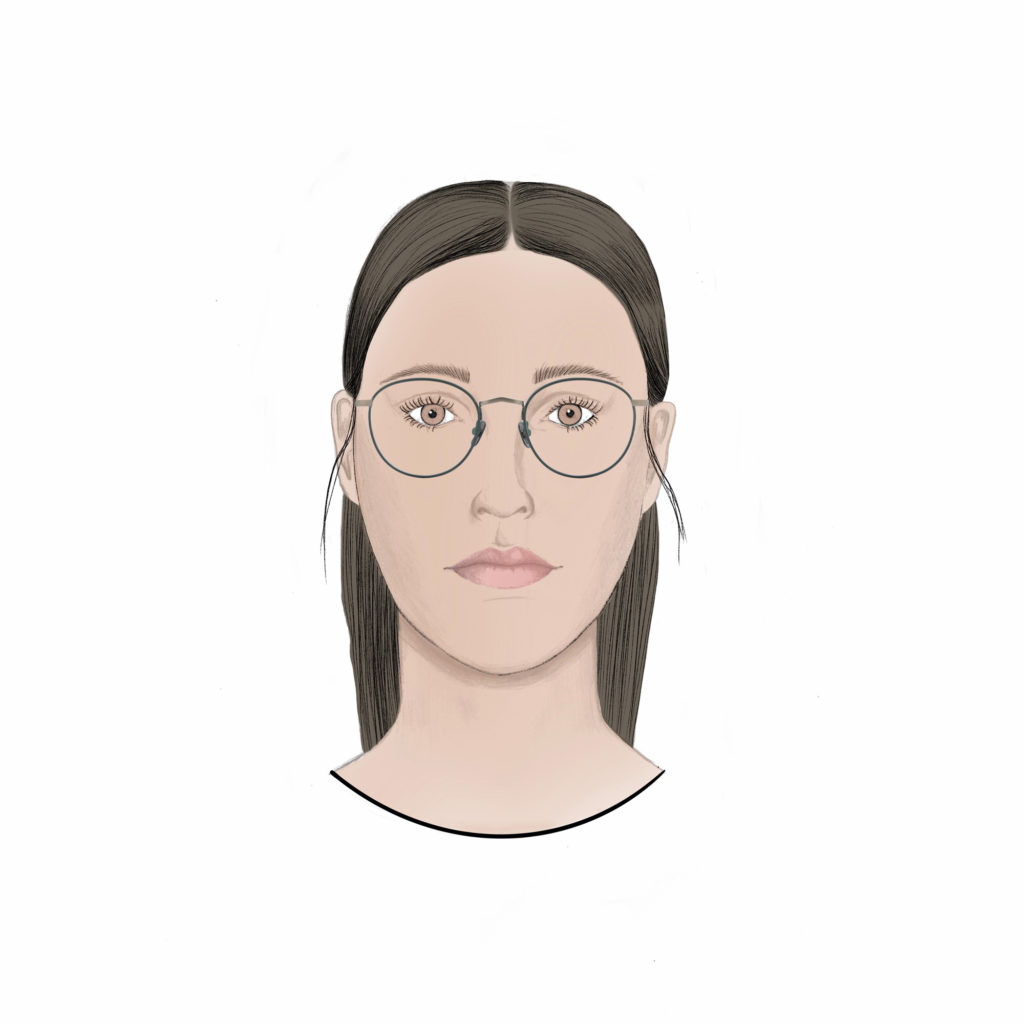 Square face shape
Square face shapes feature an austere look with striking contours for an unmistakable impression. The proportions in this face shape are defined as having almost equal distances between the forehead, cheeks and chin. This shape best suits glasses with curved, soft, harmonious lines, such as horn-rimmed or acetate designs, as well as round styles. If you want to emphasize your striking face shape, why not choose a daring, angular style?
In our example, we have chosen a subtle, narrow horn-rimmed design. The acetate frame flatters the contours of the face and softens some of its more striking features.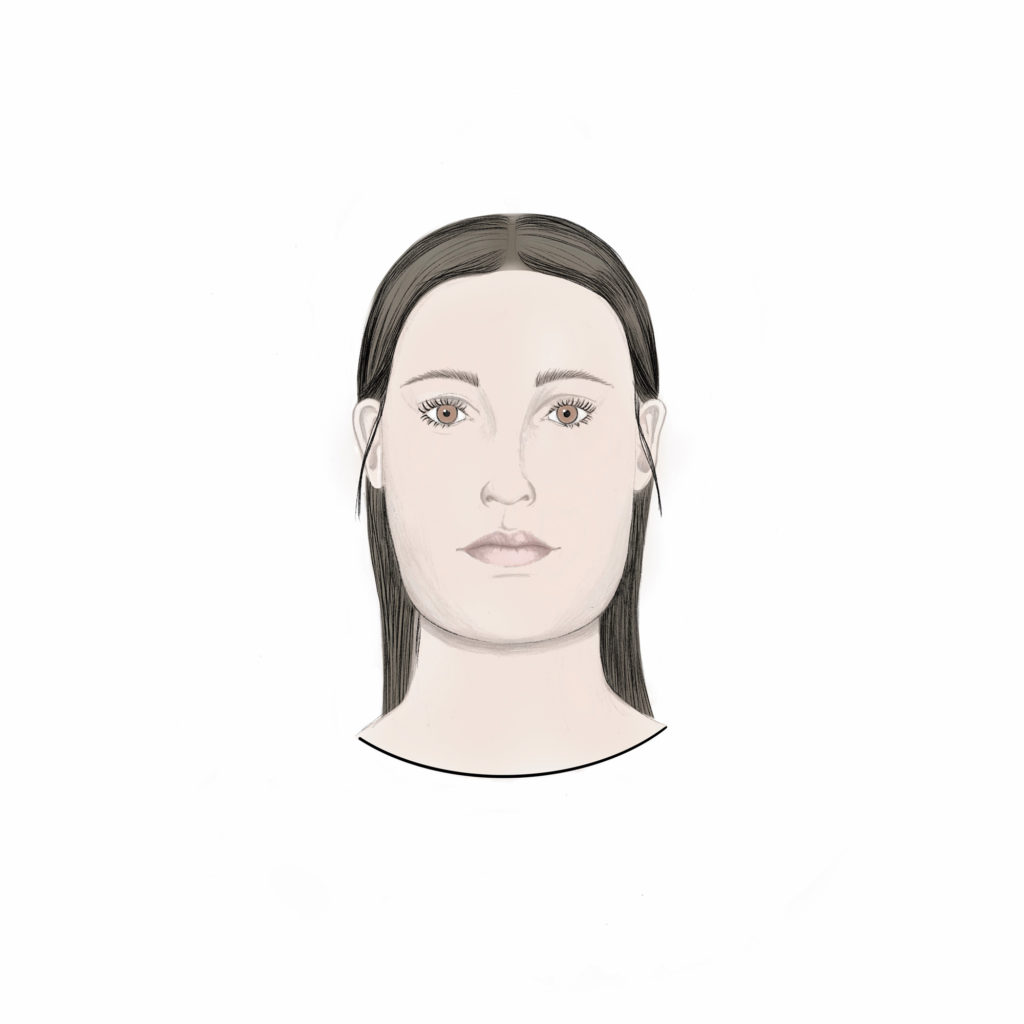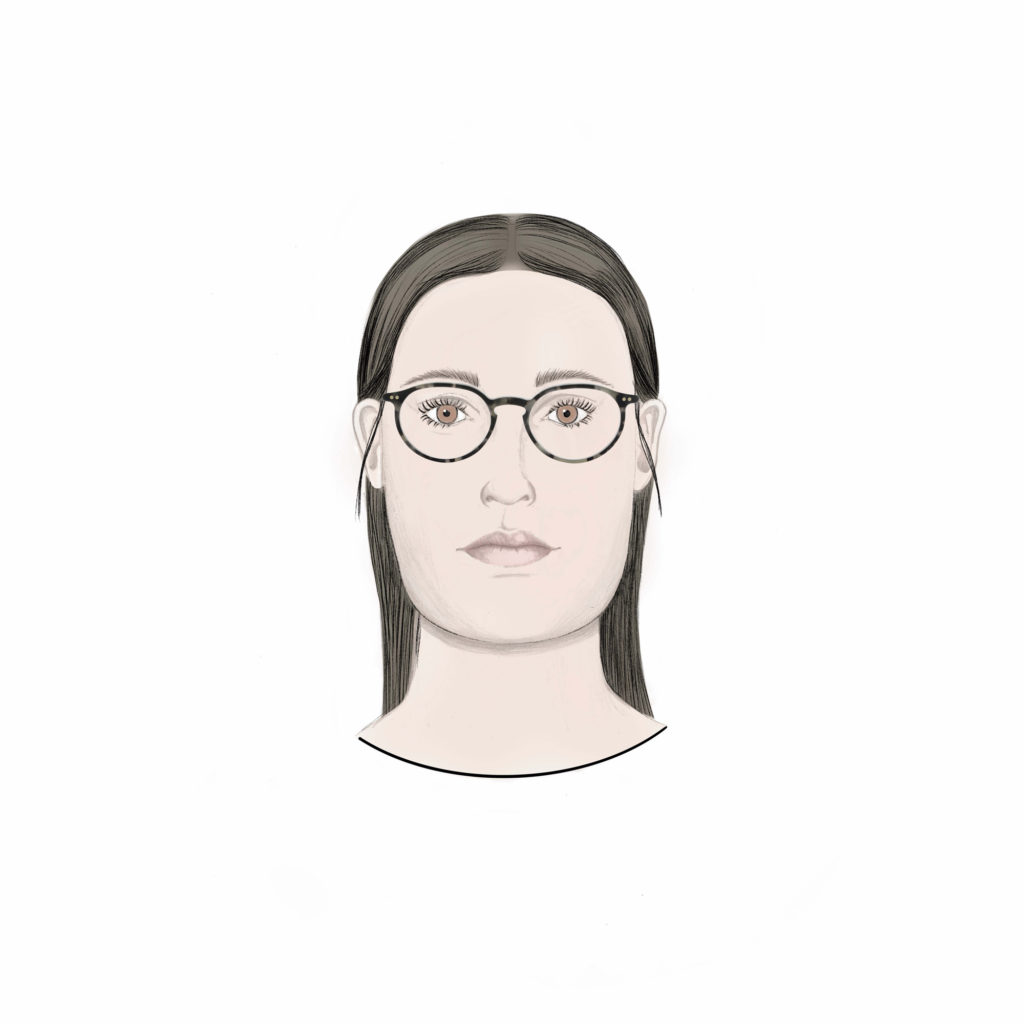 Rectangular face shape
The rectangular face shape is primarily defined by its length. The side contours of the cheeks are longer than the forehead and chin are wide. Usually, these faces have an angular look, which can make them appear striking and more masculine. Anyone who understands how to frame these characteristics effectively, however, can look forward to creating an unmistakable look. Rectangular faces can be matched well with delicate horn-rimmed styles. If you want to break up the length, choose an oversize model or striking style – the only thing to avoid is a rectangular design.
Our example is modelling an oversize horn-rimmed style that looks modern while balancing out the angular length of the face. If you feel like it, you could choose an even bigger frame. People with rectangular face shapes should feel free to experiment with delicate or transparent colors and gradients.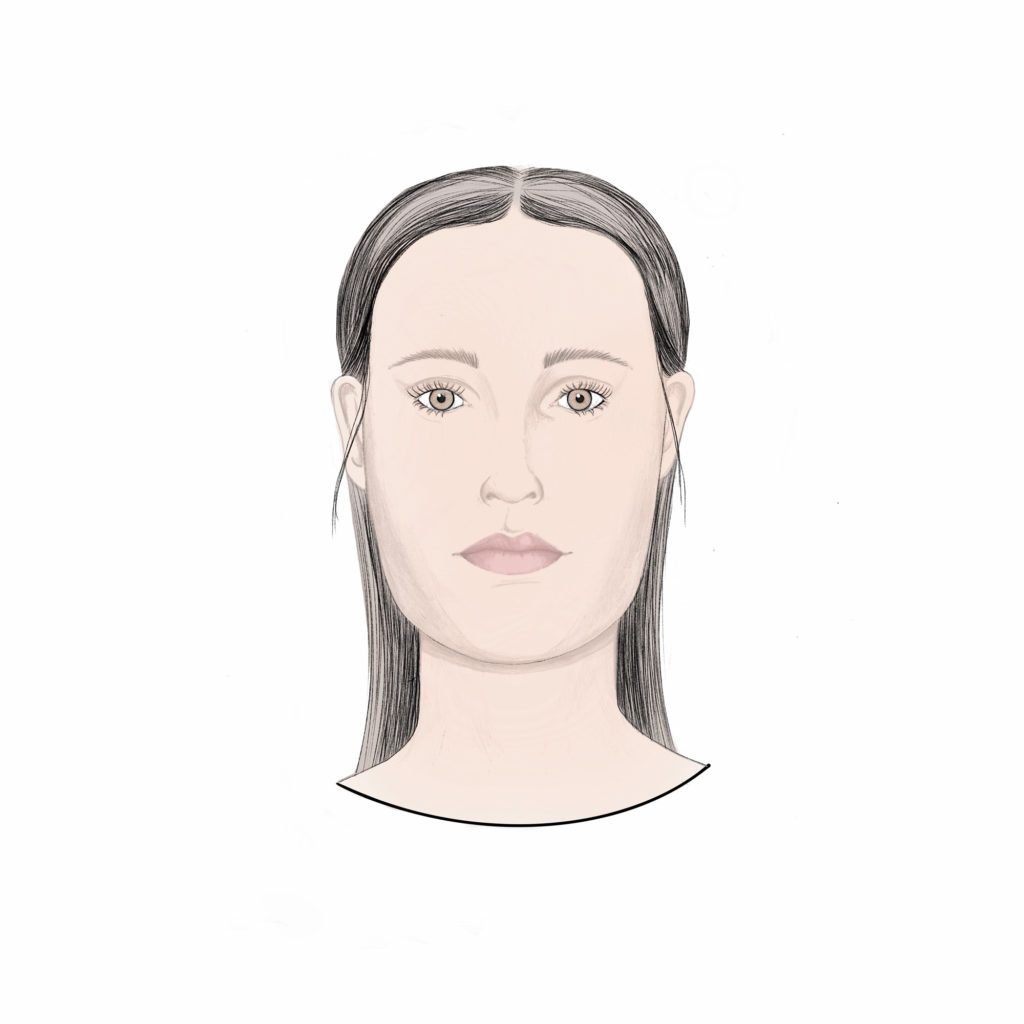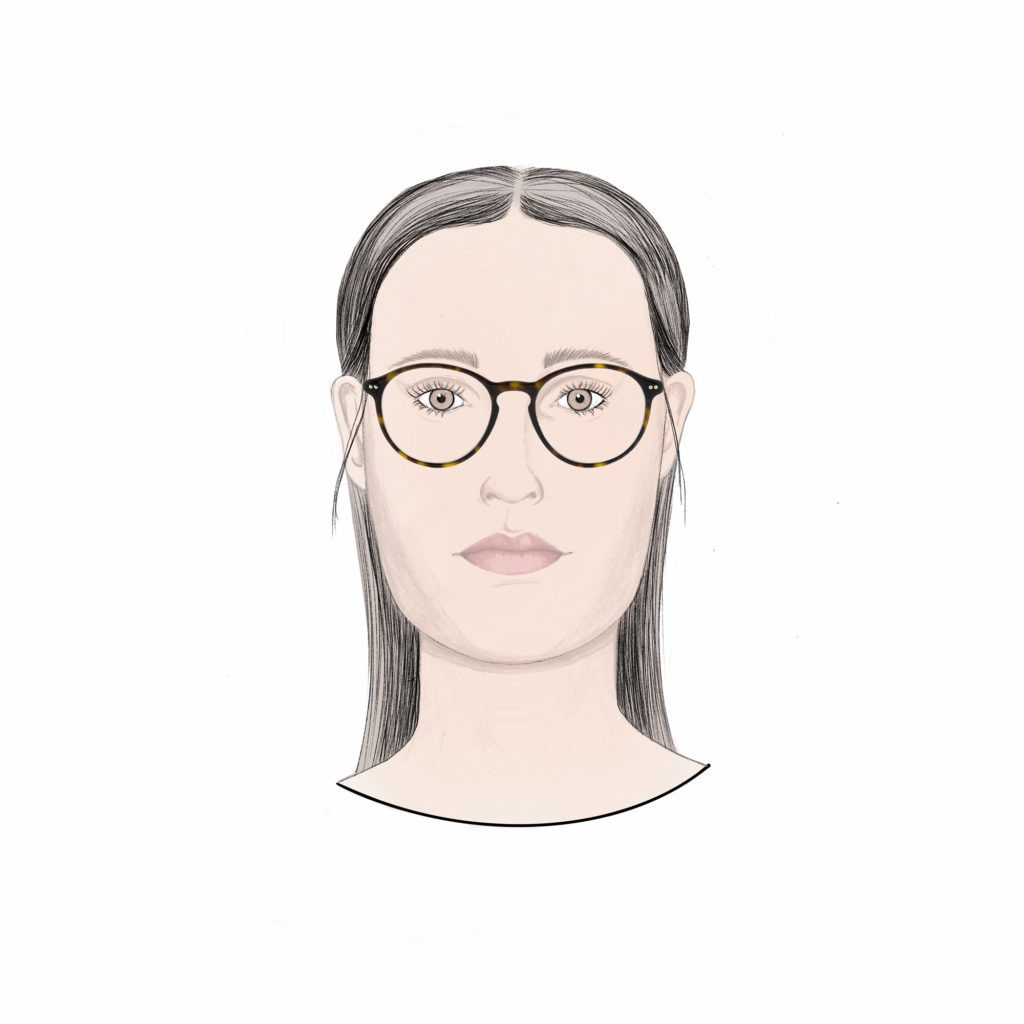 Round face shape
Round face shapes emanate a delightful appeal and look very harmonious and feminine. Women with round face shapes often appear "cute" – which they may not always be too happy about. Round face shapes can be identified by their rather flat look with few striking contours. The length and breadth of the face is usually roughly the same, with a curved hairline and a rounded chin. Round face shapes should only opt for round, soft frames if they consciously want to emphasize this cute look. Usually, these face shapes best suit a subtle or low-key model – for example, made from delicate metal or completely rimless. Contrasts can be created with angular frames that deliberately break up the length of a round face shape, giving it more expression.
In our example, you can see a round face shape wearing a retro angular frame. The angular frame with low temples breaks up the face and adds a striking touch to its harmonious proportions.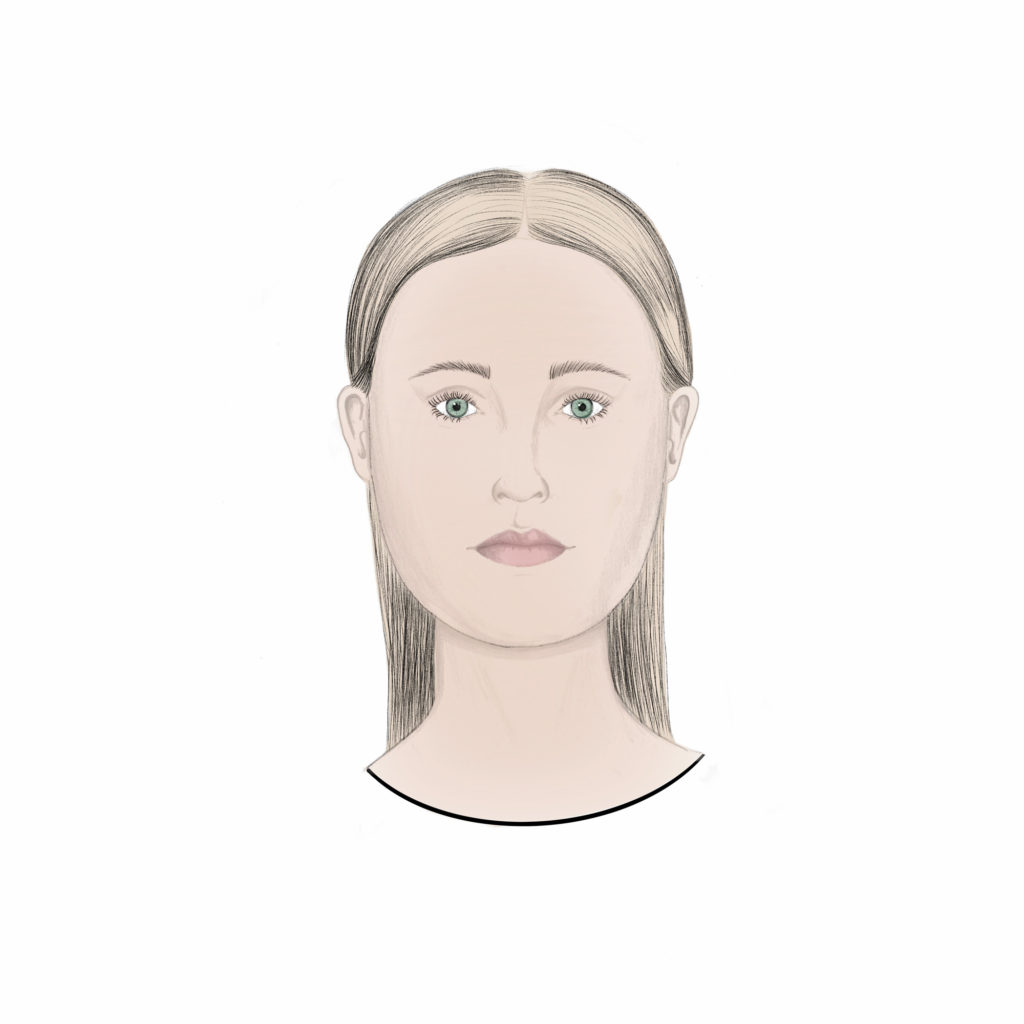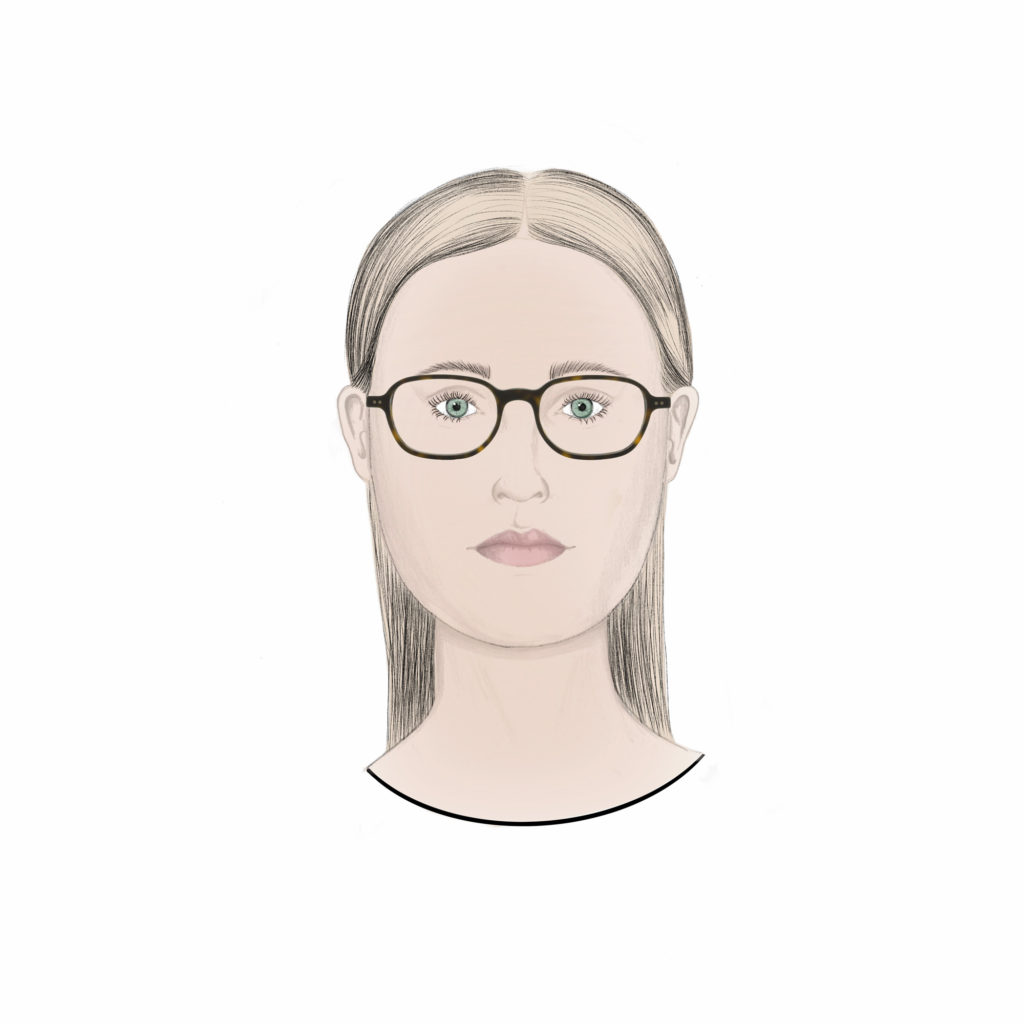 Diamond face shape
Diamond face shapes are characterized by the lower half of the face being wider than the top. The forehead is narrower than the chin, with the effect that the appearance is dominated by the cheeks and chin. To harmonize this face shape, glasses that emphasize the top half of the face are ideal. However, please make sure that the frame is no wider than the widest point of the face. Cat-eye styles and frames featuring a double bridge are just as effective as styles with curved lines or a striking brow line. When choosing aviator styles, make sure they are not too bulbous.
In our example, we worked with a vintage frame that emphasizes the brow line with its acetate edging. At the same time, the lower part of the glasses is subtle and features a slim titanium edge that creates the perfect balance for a diamond face shape.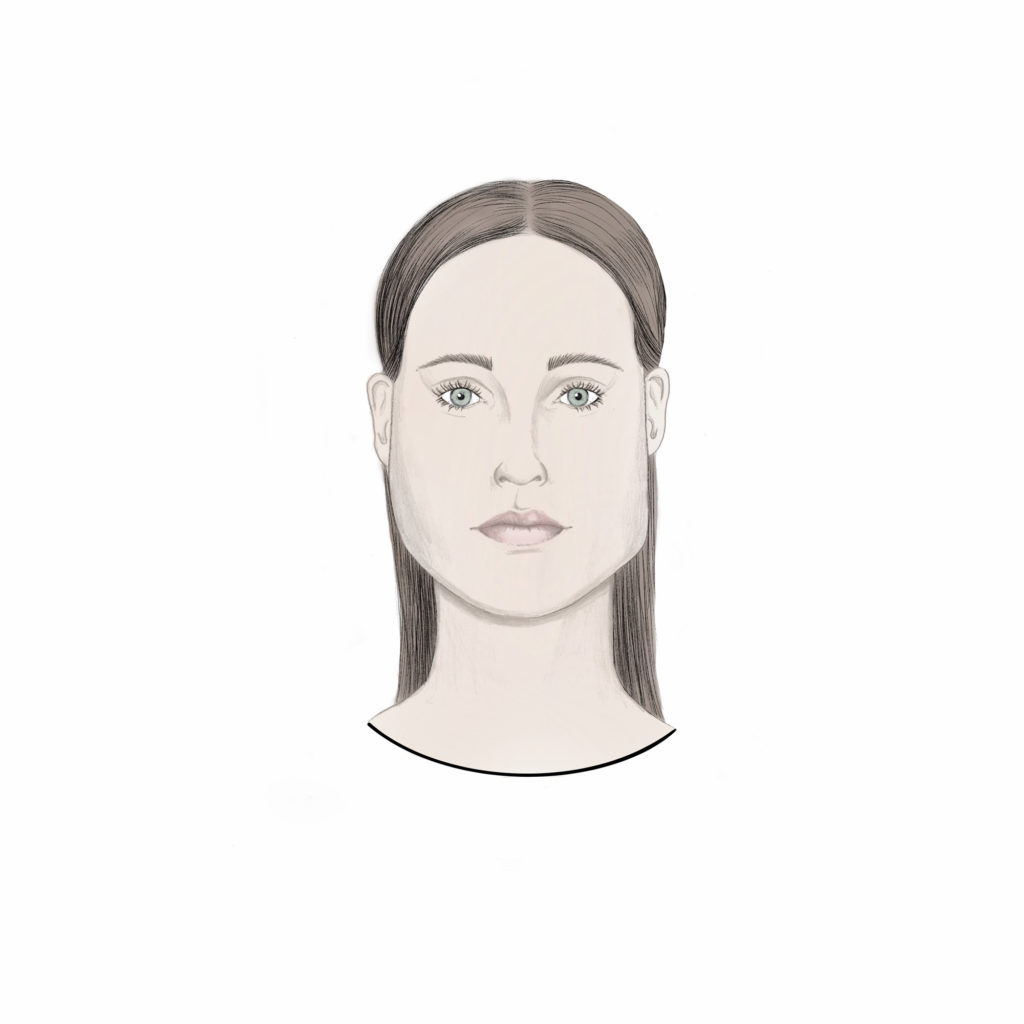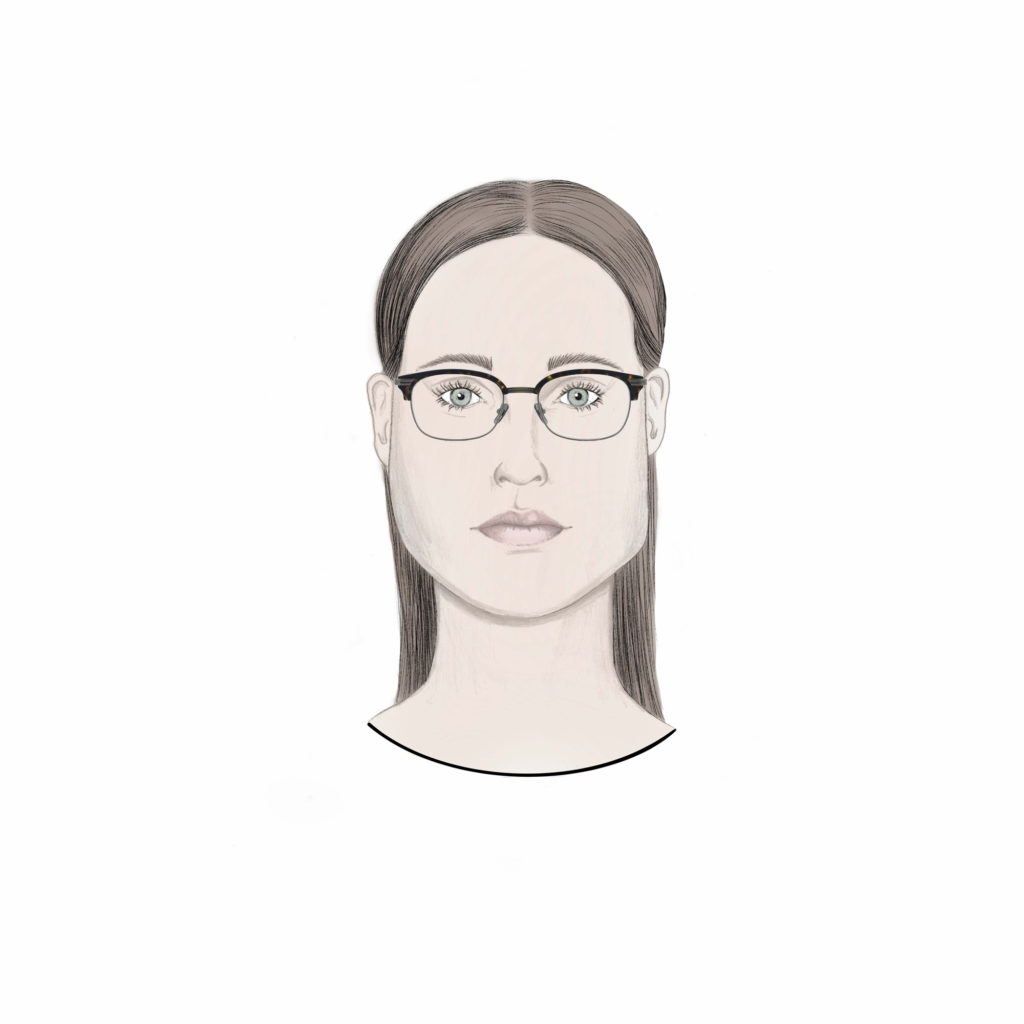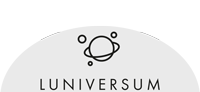 All models can be found at www.lunor.com. We at Lunor have all our glasses manufactured by family-run companies in the south of Germany. This guarantees the highest quality, traditional craftsmanship, and fair working conditions. The production facilities are optimally located for logistics, keeping our transport routes exceptionally short. We can trace every pair of glasses right back to its origins, the site where the raw material is produced.
Share: