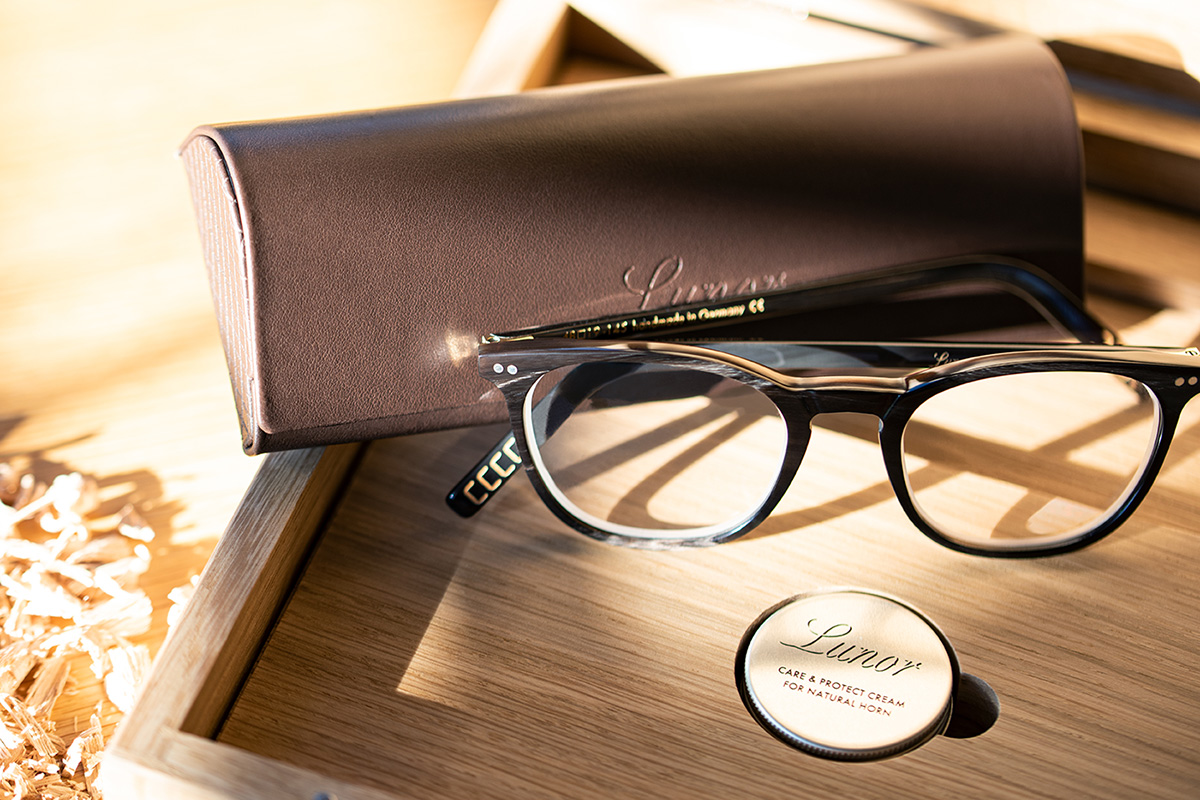 Real horn-rimmed glasses are a rarity today, and yet they offer numerous benefits. Nonetheless, optometrists have to be ready for a few peculiarities. Master optician Christoph Nier tells us what those peculiarities are and offers some tips.
Natural horn was once an important material for manufacturing eyewear. Distinctive horn frames were high fashion from the 1920s to the 1960s. Then real horn-rimmed glasses were displaced by materials like cellulose acetate, which were easier to manufacture and, above all, cheaper. Recently, visually similar acetate glasses with large frames underwent a revival as "nerd glasses" among style-conscious fashionistas. Even people who didn't need glasses at all suddenly wanted to wear "horn-rims."
Nonetheless, buffalo-horn glasses have become a rarity. Real, natural horn is challenging to work with and makes serious demands on manufacturers of such unique items. Real horn-rims do still exist though!
One person who knows how to appreciate this special material and, therefore, how to work with it is Michael Fux, CEO and Head of Design for eyewear manufacturer Lunor. "We generally only work with the highest quality materials. From titanium to stainless steel to 18-carat gold, there are so many treasures in our collection. So natural horn is the perfect addition!"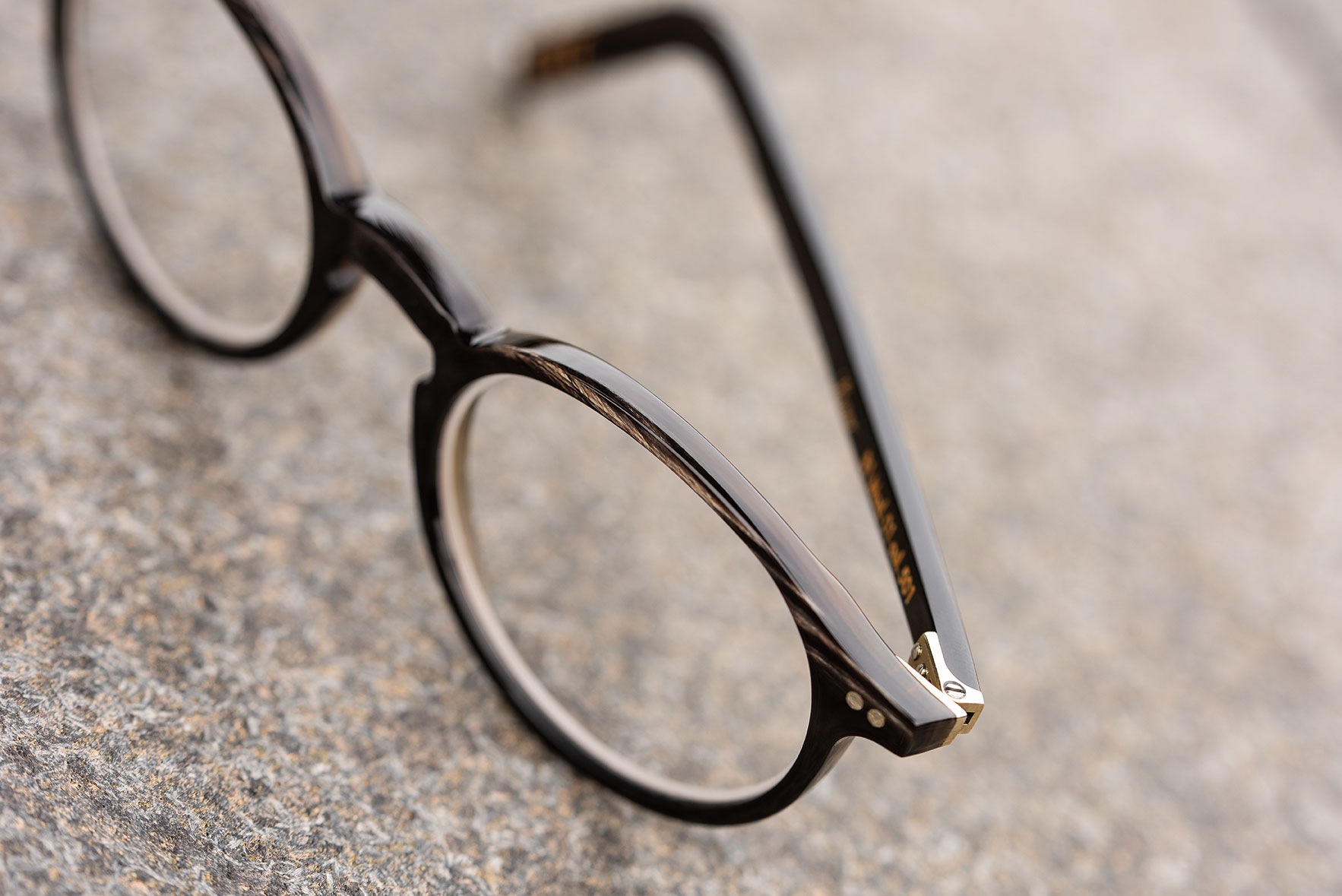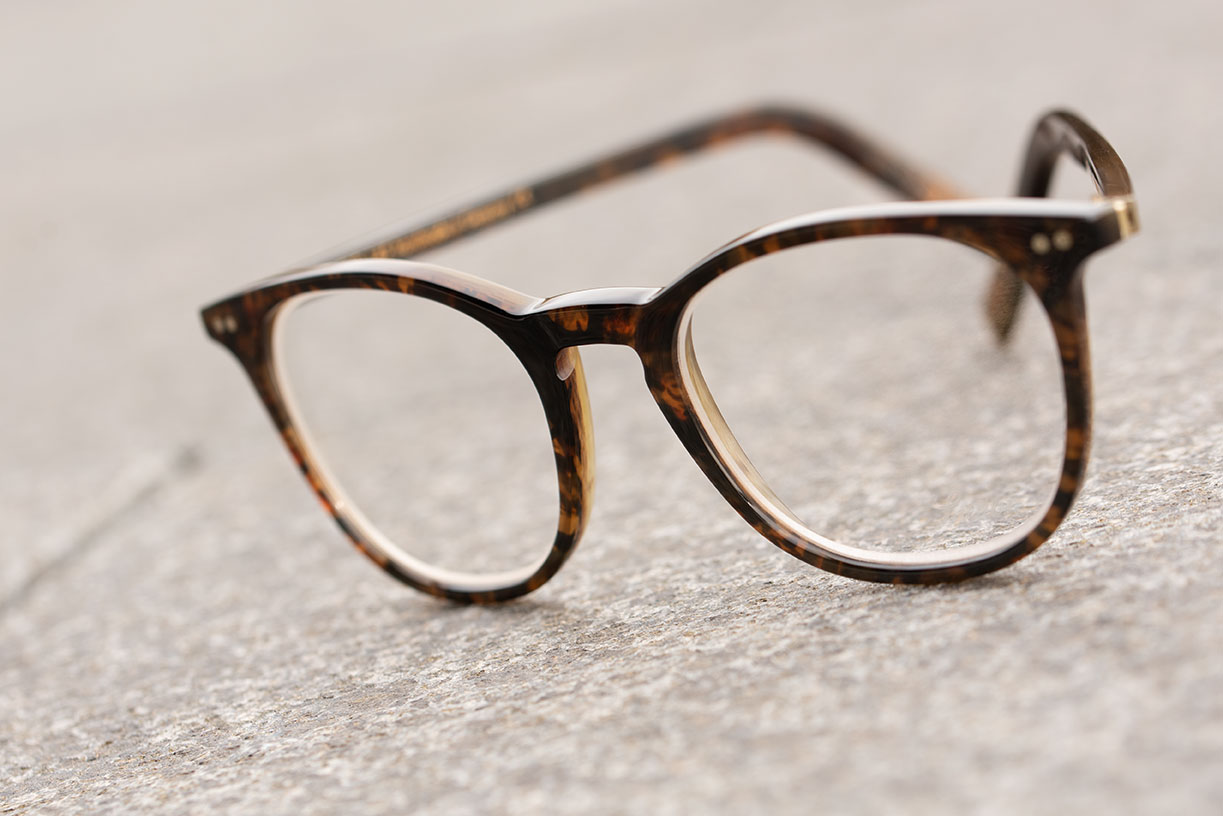 8 Benefits of Real Horn Glasses
For people who wear horn-rims, the benefits are obvious:
Horn is a natural and sustainable material without plastic.
Horn also trumps metal because horn qualifies as hypoallergenic and even very sensitive people can easily tolerate them.
Another particularity is in the coloration: horn is a natural material that always grows a little bit differently. As a result, every frame is one of a kind.
People who wear horn frames enjoy "living glasses." That means horn reacts to heat and, over time, smoothly adjusts to the shape of the wearer's head. Just think of your favorite, well-worn sneakers and how incomparably well they fit.
Horn frames hardly trap any heat. That gives them a pleasant feeling when wearing them.
Compared with visually similar acetate frames, horn is considerably lighter.
Horn frames usually last for years because their durable quality means they can be used over and over.
Real horn glasses are a testament to timeless style.
Horn glasses are the supreme discipline
Dealing with horn glasses is also more demanding for experts in specialized optics stores. But with a little practice, real horn-rims become like a calling card for opticians who know their craft. One of them is Christoph Nier, master optician at Optiker Carl Müller right in the heart of Frankfurt. Since he finished his apprenticeship, the 27-year old horn aficionado has already gained experience with this precious material and explains how to handle it correctly.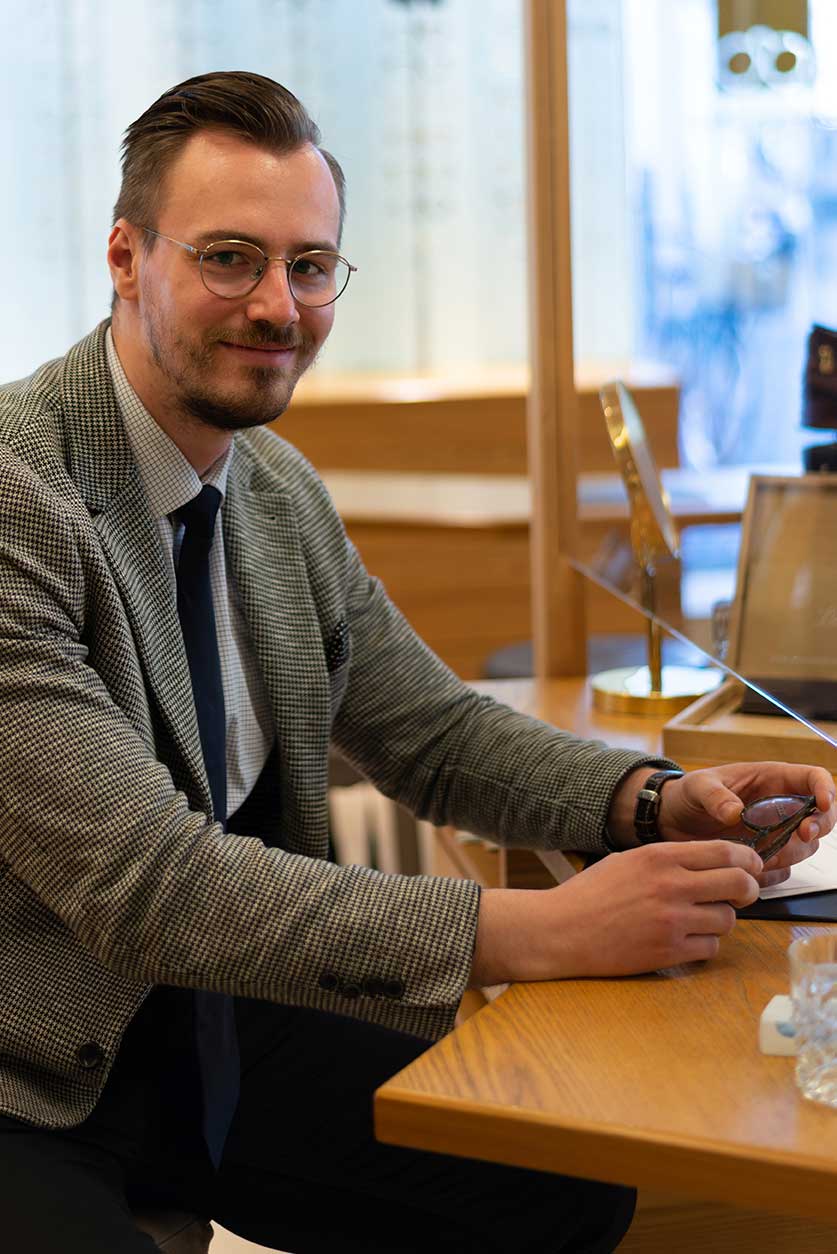 You're the horn frames expert at Optiker Carl Müller. How did this come about?
"I've spent a lot of time in the workshop since my apprenticeship. I've always tinkered and tried things out there, including with horn frames. I gained experience with them from the start and, to be honest, one or another of them would break along the way. That's completely normal when you don't know the material very well. In 2015, I received my master craftsman's diploma and I was imagining myself more directly looking after customers in sales. I was drawn back into the workshop though. And when you can do something well, people often want to get your advice."
What are the things a person needs to pay attention to when maintaining horn frames?
"It's important to care for horn frames consistently. The best thing is not to use detergent or soap, but rather a special cleaning agent instead. You can think of real horn like leather: it's an exciting material, but it's a living thing and it needs care. Otherwise, it will get brittle and can break. By the same token, change over time is normal: sometimes the frames develop stripes after a few years. In the best case scenario, horn frames should be brought in to the optician once or twice a year for a little TLC."
"Horn-rims have a soul"
Who buys horn frames from you?
"Well, we're located in the center of Frankfurt. In that respect, it's often our clientèle from the financial sector asking about those frames. They're mostly people who value the highest quality and are looking for a classic, timeless look. People who wear horn frames often stick with that material and more than a few of them also convince their partners at home to try horn frames."
On average, how long do your customers wear your horn frames?
"We've noticed that people wear horn-rims longer, at least in comparison with frames made of acetate or metal. Often up to five years and in the process they are also re-glazed repeatedly."
What would you recommend to other opticians who don't yet have much experience with horn frames?
"By all means: be careful! With horn frames, you have to work by feel – less by pressure. It's also important to have a lot of heat that can sufficiently penetrate the material. I always say: if you're just about to burn your fingers, it's just right. You also have to keep in mind that horn has to be curved and then held in this shape. Otherwise it will bend back into its original form. My rule is: I only work with horn on good days when I have enough patience." (laughs)
Why is it worth having horn frames in your collection despite their peculiarities?
"Horn is just unique! It's a snazzy material with character. Horn-rims have a soul, like a valuable watch. No two horn frames are alike because the horn structure grows naturally. In a way, it's also about the honor of us opticians: horn-rims are the supreme discipline. If you can handle horn-rims, you know your craft."
Do you have any final tips?
"Practice makes perfect. And 5% of the time: accidents happen!" (laughs)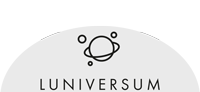 We at Lunor manufacture all our real horn glasses in Germany. This guarantees the highest quality, traditional craftsmanship, and fair working conditions. The horn comes from Asian water buffalo, which are used as valuable farm animals in their native countries. It is only reprocessed after the animal's natural death. Lunor horn-rims are made of pure, multi-layered horn and functionally riveted with Lunor's characteristic double rivet hinges. You will feel the quality and enjoy wearing it for many years to come.
Share: