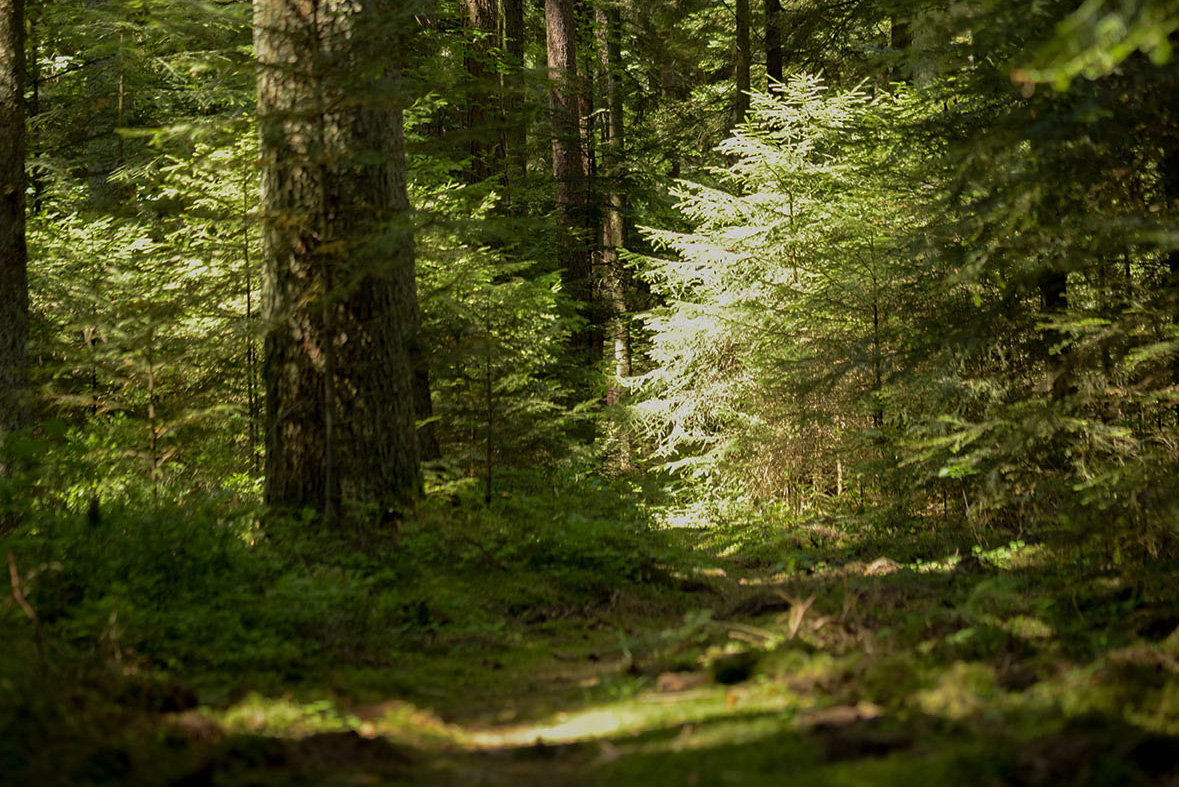 Bathing without water? Is that possible? It sure is! Why nature can be so beneficial, what you need to get started, and why the Black Forest is ideally suited for forest bathing.
It feels a bit odd to leave your own four walls for a few nights, for the first time in over a year. Odd—but really good. It is May 2021. The coronavirus pandemic still has the world on tenterhooks. And yet, social life is starting to return piece by piece. My friend and I are looking forward to our first little vacation after not having had one for so long. As we arrive at our destination, we let the beauty of the Black Forest sink in. From our terrace, we can see the green trees, their tops swaying gently in the breeze. We breathe in the fresh air, feel the sun's rays on our skin and hear the quiet, serene murmur of the river. I can feel the happiness flowing through every fiber of my body. During long walks, we discover old chapels, rocks overgrown with moss, and spots inviting us to linger for a while. Our walks lead us straight through the forest and along paths that offer impressive views of the valley. What a privilege to have such a beautiful spot almost at our doorstep.
Shinrin Yoku in the Black Forest
Before the pandemic, I rarely went for walks. That changed due to the restrictive external conditions. Now I have become a passionate walker. I began to become more consciously aware of nature, especially the forest, and to use it for myself as a resource. In Japan, there is a term for this: shinrin-yoku. It means "bathing in the forest air" or, as most people probably know it, "forest bathing." Shinrin-yoku invites us to take in the forest with all of our senses. To dive into it, so to speak. To restore our connection to nature and use it for ourselves. Forest bathing has changed my awareness of nature and my environment. Now I go through our world more openly, more attentively and more comfortably. But more than anything, now I really enjoy forest bathing.
Six tips for forest bathing:
Take your time. Plan in enough time for your forest bathing. People often need some time to be able to relax. It is also a good idea to leave your cellphone at home or at least switch it to airplane mode.
Incorporate individual needs. We all have different needs. We can personalize our walk. For example, you could create a playlist, bring a book or something to write with. Consider which time of day is best for you and how long the walk should be. The main question should be: "What is good for me?" Just try it out!
Conscious breathing. Deep and slow breathing slows down the pulse and allows our nervous system to relax. Conscious breathing connects us with ourselves and our body. The 4-7-11 breathing exercise is a good way to get started. The exercise can be done sitting, standing or lying down. First, you inhale consciously for four seconds, slowly through the nose and into the stomach. Then, you exhale through the mouth for seven seconds. You repeat this exercise 11 times.
Meditation. The walk itself can already have a meditative effect. The meditation can be expanded upon with relaxing music or conscious breathing, for example.
Taking breaks. A walk through the forest can easily cover a few kilometers. To maintain a state of relaxation and avoid detaching from it due to exhaustion, it's always worth taking a few breaks.
Snacks and drinks. Hunger and thirst stress the body. Depending on the length of the walk, it can be advisable to bring enough supplies.
In the Black Forest, guided tours from trained coaches are also offered. You can find more information here: Whether you go through the forest alone or take part in a guided tour, you will notice what a positive effect forest bathing will have on you.
Share: