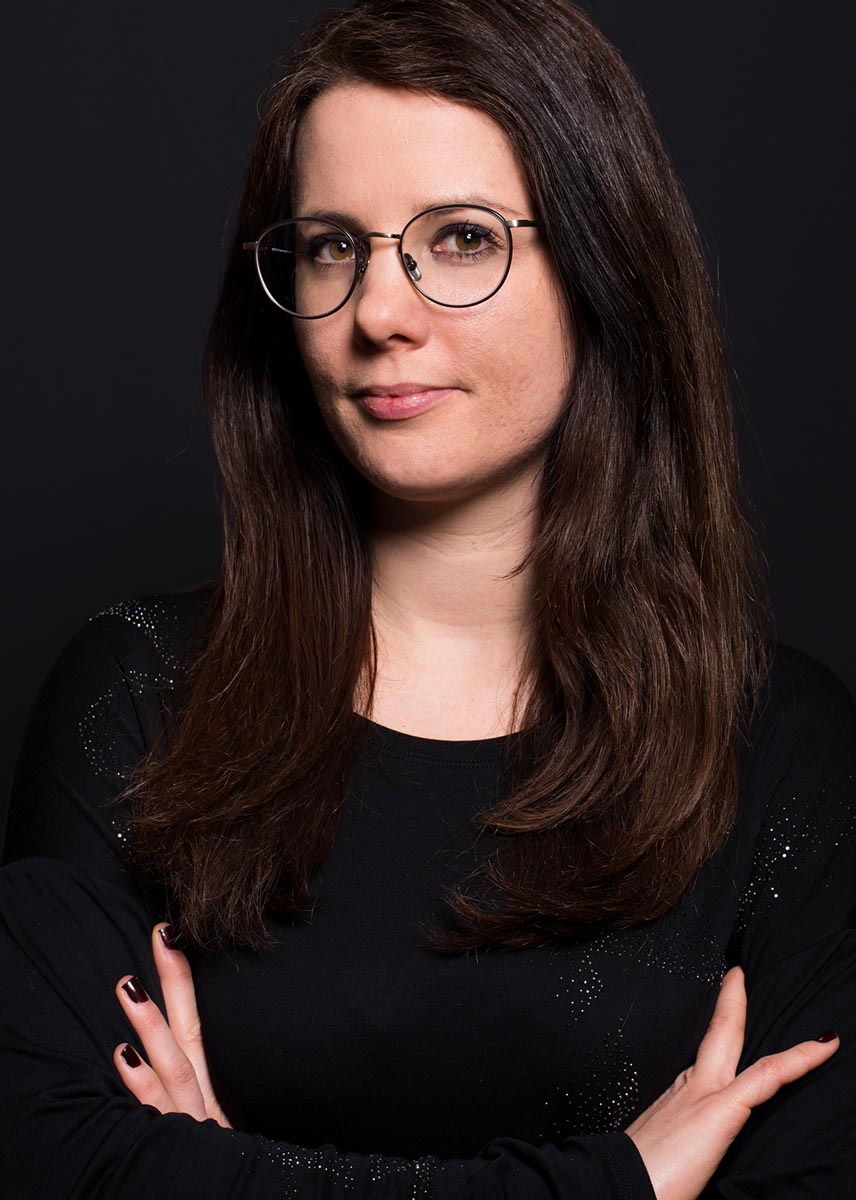 You can't choose your family. Just living with their families under the same roof can drive some people to the brink of despair. In a family business, however, they also have to work together. Let's be honest: could you imagine having your mother as your boss? Your little brother as a colleague? In a family business, it's a matter of course.
This is the kind of family that Sophie Fux was born into. Her older brother, Michael, is the CEO of Lunor AG, an eyeglass manufacturing company took over by him and his father Ulrich Fux. Sophie also works for Lunor AG. Part two of the series "Daughters in family businesses".
Lunor AG is a global player on the eyeglass market. How did you experience and help shape the development of such a large company?
Hard to say. The company was already fully established by the time I joined. I'm not that close to its beginnings. Lunor was founded in 1991, and my father and brother took over in 2005. In the early days, most of the burden rested on my brother Michael's shoulders: he managed the staff and made all the decisions.
When I joined the company in 2012, the number of employees jumped from four to 15. We now have 30. The challenge at that time was to establish structures within the company. That was my role, to form teams and distribute responsibilities. A large part of my work involved taking a closer look at all the processes in the company and thinking about how things could be made simpler. When I think of how we used to operate, it's amazing to see how much faster, more precisely and more efficiently we work today.
Were you born into a typical entrepreneurial family?
Both of my parents are opticians. My father is also a keen entrepreneur. He's incredibly good at thinking up new things. He loves starting new projects, but then has to move on to the next one relatively quickly. I prefer to work with what exists and develop it further. That's my forte.
Sophie Fux: " For us, everything was like a game"
To what extent were your childhood memories shaped by your parents' business activities?
My parents have always been self-employed, and I remember that we grew up with glasses all around us. Our whole house and the entire basement were filled with them. Even as children, we put samples together for opticians. For us, that was like a game where we arranged and packed various cases. So glasses were an integral part of our lives. Because my parents were always independent, we kids adopted those traits relatively early on. We were self-reliant from an early age; we got to school on our own, for example.
So your parents always had a lot to do. Did that strengthen the bond among you and your siblings?
I don't know if that's the reason we all get along so well. However, we are all close in age, particularly my older brother, Michael, and my younger sister, Lisa. The youngest, Alex, sometimes felt a little left out. When we were small, we did a lot together. Obviously everybody had a phase in which other friends were more important, but now the focus has shifted back to our siblings.
How do you and your siblings work together today?
People often ask me that! Apparently a lot of people think that working with your family must be particularly hard. The fact is I only work with my brother, since my other two siblings don't work in the same company. I don't know if it would be the same with every family member, but with Michael and me it works surprisingly well.
"Our father is a kind of consultant"
Why is that?
I think one reason is that we are different in character but have the same ideas and vision. We move in the same direction. One way in which we are different is that Michael is amazingly calm. That always fascinates me: he lets nothing, absolutely nothing upset him. I'm not like that at all. I'm learning to take things more calmly, but I'm always trying to keep things moving, which means I also lose my cool more quickly. Michael, on the other hand, is the steadying influence. I think that's why it works so well. We complement each other, also in the things that we do. We each have our own tasks, and each of us trusts the other.
How much are your parents still involved in the company?
My mother has hardly anything to do with it nowadays unless there's a lot of work; then she can help us with her knowledge of optometry. My father is still involved with strategy but doesn't have anything to do with the company's daily business. For us, he's a kind of consultant. We talk to him and find out what he thinks, especially when we have big decisions to make. Ultimately, though, decisions come down to Michael and me.
You are the second generation – have you thought about starting your own families?
Not at all, to be honest. From my own experience, I can say that even when I was small, people outside the family always asked me whether I was going to take over my parents' business one day. My parents never expected it of me, though. That was important for me. I never had the feeling that I was expected to do it. I think my brother and I would be the same with our own children, but we don't have any concrete plans yet.
Sophie Fux: "
It's important to be able to talk about unpleasant things."
How do you work together as a family when everyone has different roles to play in the company?
That's a tough question. In our case, Lunor clearly belongs to my brother and father. That makes everything straightforward; nothing has ever been left open to discussion.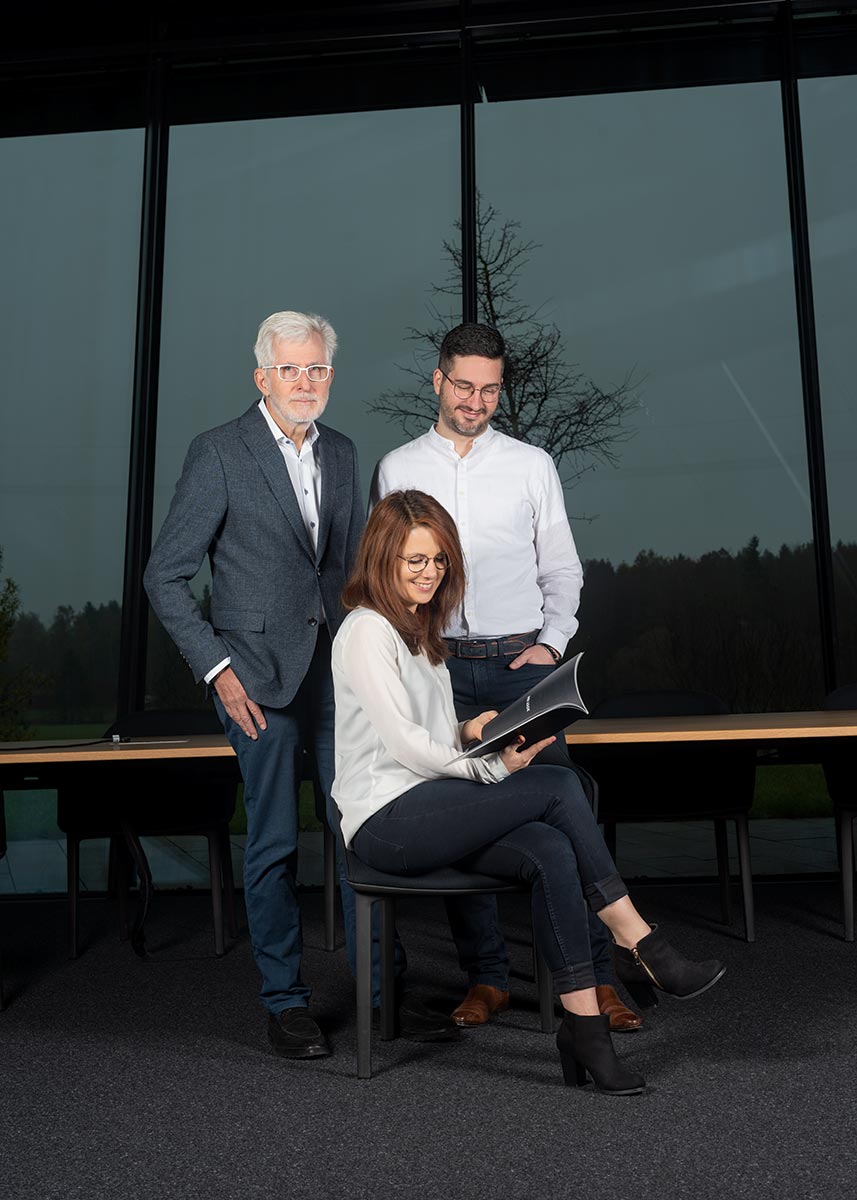 Ulrich, Michael und Sophie Fux
Does that mean that there's no competition between you?
We can all sometimes feel that we're missing out, that goes without saying. In my case, though, if something's bothering me, I talk about it and that's the end of it. That works well for me. My brother is incredibly appreciative of the work I do. That's why it works well overall. It's just important to be able to talk about unpleasant or crucial things.
What about the relationship between business and family? Do the boundaries become blurred?
Things can get difficult if tasks in the company are not distributed based on competence and talent. In other words, if somebody's only doing a job because he or she is one of the family. Fortunately, that isn't the case with us, and we can cover the areas that match our interests and strengths.
Have there been moments when you wanted to do something completely different? 
Yes, there have. More than once, in fact. The jobs I had before weren't nearly as challenging. But after a while, this meant that I no longer found them as interesting. I've never had such a challenging job as I have here. The responsibility you bear and the decisions you make are so far-reaching. You have 30 employees, all the customers, wholesalers and so on. That means you have enormous responsibility for a lot of people.
"Michael also helps me in challenging situations"
Not everything works out the way you want it to. I often make plans that turn out to be unrealistic, in which case I think, is it really worth it? Or would I rather do something else for a year? The good thing is I can actually do this. Just this summer, I was away for eight weeks because I needed to do something different for myself. After taking time off, I came back feeling energized. That helps me a lot, and Michael also helps me in challenging situations.
If you could do something else, what would it be?
I think I'd do something similar. I've learned over the years that I really enjoy working with people. I also like thinking about how things can be changed to work better. These two factors would be important if I were to do anything else.
Have any moments with staff or customers left a mark on you?
Actually, quite a few. I really enjoy watching our staff develop. Some of them have been with the company for a long time; developments like these are wonderful to see. They have also helped me grow as a person.
"The glasses are one of the best things about my work"
Do believe you can change or accomplish something with Lunor glasses?
The glasses are one of the best things about my work. I don't know if I can accomplish anything with them, but I like working with this kind of product, focusing on improving it and supplying even higher quality. That applies not only to the product, but also to all the services around it, the whole enterprise. I really enjoy that. I also like creating something tangible. And in such high quality! I also appreciate the fact that the product is sustainable. We pay close attention to this during production, and this makes an important contribution.
What would your colleagues say about you?
That's hard to imagine. I definitely think that the staff who have been with us for a long time would say that I have changed a lot. I've been through everything, all the highs and lows. I also believe they think I can be strict. I am adamant that when I make a rule, there are no exceptions. However, I also hope that the staff know that they can come to me at any time and talk about anything they need to.
Do you feel at home in the Black Forest?
I grew up here, but I'm definitely a city person. That's why I now live in Stuttgart. All the same, I really like spending my free time in the country and in the Black Forest. I love the Black Forest, especially all the fall colors. It's so fitting that Lunor's roots are in the Black Forest: the Black Forest is synonymous with craftsmanship and tradition, just like we are.
Share: